Washington Academy of Sciences
Annual Awards Banquet
May 14, 2015
Washington, DC
May 14, 2015 was the date of our annual Awards Banquet, a formal affair with a gourmet dinner held in the Washington, DC area. The public is always invited to attend and to help us celebrate and recognize the extraordinary achievements of a select group of scientists and engineers.
This year, the keynote address was presented by Sethanne Howard, an astronomer and longtime leader in the Academy. Her talk was titled "Benjamin Banneker and Celestial Navigation: Just how did they know where they were, then?" Banneker, a free black man, was on the team that surveyed the original boundaries of Washington D.C. He was a self-educated scientist and extraordinary mathematician. Dr. Howard also discussed the techniques used in those days to determine latitude and longitude for surveying.
---
Awards
Ronald Collé received the award for Distinguished Career in Science, here presented by Lisa Karan.  Dr. Collé is a specialist in nuclear and radiochemistry, radionuclidic metrology, and the development of standards.  He and collaborators developed methods to analyse and standardize brachytherapy sources, pellets of radioactive material designed to be implanted in the body at site requiring direct radiation exposure.  (Photo by Al Teich).
---
The Award for Distinguished Career in Engineering Sciences was presented to Ram D. Sriram (r) by Steven Fenves.  (Photo by Al Teich).
---
The Award for Physical and Biological Sciences was presented to Marcus Cicerone by Laurie Locascio.  (Photo by Al Teich).
---
The Award for Biological Sciences was presented to Paul Peterson by
Chris Puttock (r).  (Photo by Al Teich).
---
The Award for Engineering Sciences was presented to Robert Gover by Douglas Fraedrich (r).  (Photo by Al Teich).
---
The Award for Physical Sciences was presented to Gregory Strouse by
Gerald Fraser (l).  (Photo by Al Teich).
---
The Krupsaw Award for Non-Traditional Teaching was presented to MaryBeth Petrasek by Anne Cupero (l).  (Photo by Al Teich).
---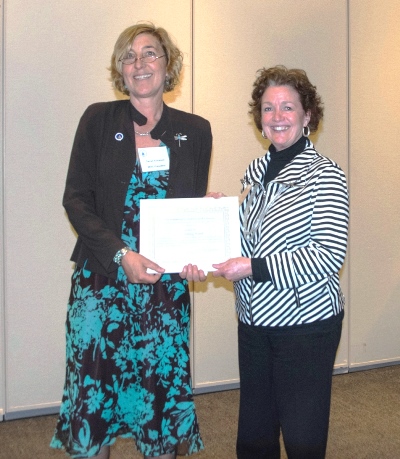 A Special Recognition for Service to the Washington Academy of Sciences Award was presented to Sally Rood by Terrell Erickson (l), in grateful recognition of Sally Rood's services to the Academy. (Photo by Al Teich.)
---
The Washington Academy of Sciences was incorporated in 1898 as an affiliation of eight Washington D.C. area scientific societies. The formation of the Academy culminated a decade of planning under the leadership of the Philosophical Society of Washington. The founders included Alexander Graham Bell and Samuel Langley, Secretary of the Smithsonian Institution. The purpose of the new Academy was to encourage the advancement of science and "to conduct, endow, or assist investigation in any department of science." That purpose guided the Academy throughout its first 100 years and will continue to be our guide through the coming century.