Awards Banquet – Thursday May 9, 2019
Our annual Awards Banquet for 2019 will be held at the elegant Ceresville Mansion in Frederick, MD.  Located on twenty-five riverside acres with lovely mountain views, the mansion, built in 1888, includes nine thousand square feet of refined architectural splendor. At 6:30 we will meet and greet our colleagues in the elegant garden terrace with a reflecting pool. We will enjoy a buffet dinner in the Grand Ballroom.
The cost is $70 per person (same as last year).   Register here.  
Ten people were given award certificates at the Washington Academy of Sciences Annual Awards Banquet in May 2018, in recognition of their extraordinary achievements in science, engineering and education.  The awardees and their presenters are listed on the  2018 Awards page.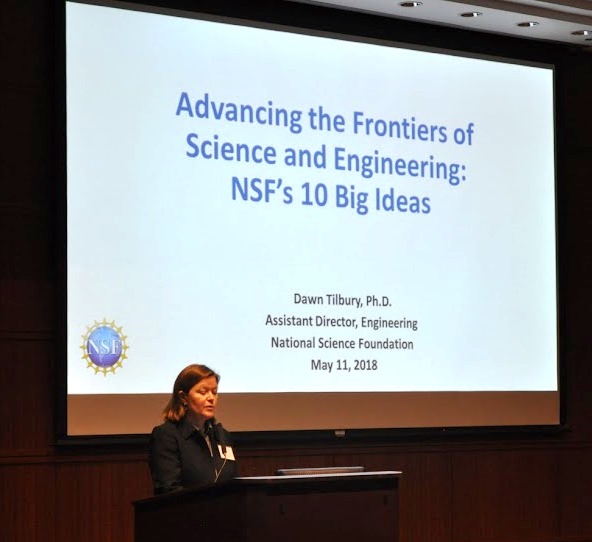 The keynote speaker for the Annual Awards Banquet was Prof. Dawn Tilbury.  Prof. Tilbury is the Assistant Director for Engineering Directorate at the National Science Foundation.  Her talk was entitled: "Advancing the Frontiers of Science and Engineering: NSF's Big Ideas".  Watch the video of Dr. Tilbury's talk here:
Since 1898, the Washington Academy of Sciences has served as the affiliation of Washington D.C. area scientific societies. The formation of the Academy culminated a decade of planning under the leadership of the Philosophical Society of Washington. The founders included Alexander Graham Bell and Samuel Langley, Secretary of the Smithsonian Institution. The purpose of the new Academy was to encourage the advancement of science and "to conduct, endow, or assist investigation in any department of science." That purpose guided the Academy throughout its first 100 years and will continue to be our guide through the current century.
Among our nearly 60 Affiliated Societies and Institutions are Meadowlark Gardens and the D.C. Historical Society

Among the recipients of The Washington Academy's Seals of Approval are Karl Pribram's The Form Within: My Point of View and Dan Berleant's The Human Race to the Future – What Could Happen And What to Do.

Among the recipients of The Washington Academy's Awards for Scientific Work of High Merit are Harry Diamond for Engineering in 1941 and John Mather for Physical Sciences in 2006


Harry Diamond

John Mather
The Washington Academy of Sciences has published articles of scientific interest continuously since 1899, first as The Proceedings until 1911, when it became The Journal of the Washington Academy of Sciences. The Tables of Contents of 100+ issues of the Journal are listed here.