Save the Date!
Our Annual Awards Banquet will be held on May 12, 2022.   We are presently crafting plans and arrangements.   Watch this space for more details coming soon.  
Awards Banquet, 2022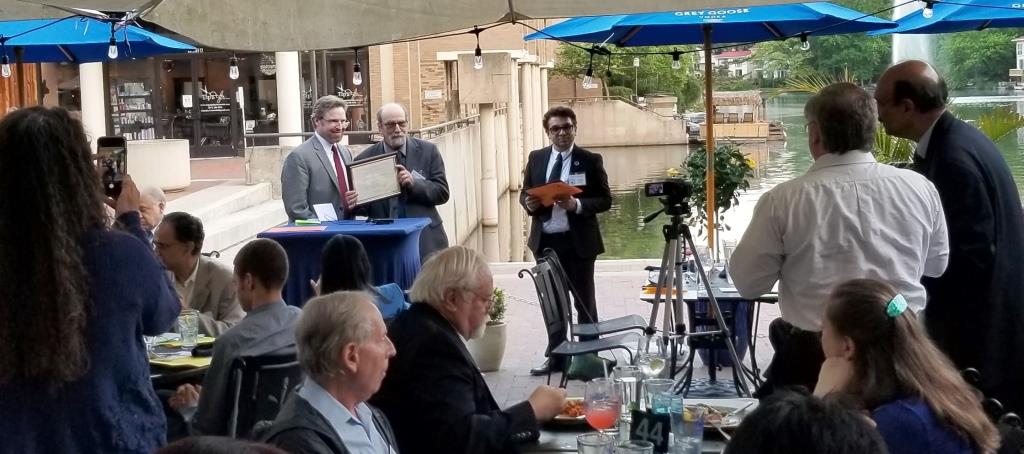 The Academy's annual Awards Banquet was held outdoors on May 11 at the Kalypso Sports Tavern in Reston, VA.    We were treated to a beautiful day and a delicious dinner!  About 60 people were in attendance as we handed out award certificates to  eleven extraordinary leaders in science and engineering from the Washington, DC area.  
Photos and videos of the event are posted here.   Congratulations to all the well-deserving awardees and thanks to their nominators!  
Past Presentations
 The Washington Academy of Sciences now includes on this website an archive of audio, video and slide presentations sponsored or submitted by members of the Academy.    Please visit our presentations page for a list of these fascinating presentations such as our recent one by Vint Cerf, one of the Fathers of the Internet, shares "Lessons from the Internet". Cerf is the co-designer of the TCP/IP protocols and the architecture of the Internet.  Watch his presentation here.
Since 1898, the Washington Academy of Sciences has served as the affiliation of Washington D.C. area scientific societies. The formation of the Academy culminated a decade of planning under the leadership of the Philosophical Society of Washington. The founders included Alexander Graham Bell and Samuel Langley, Secretary of the Smithsonian Institution. The purpose of the new Academy was to encourage the advancement of science and "to conduct, endow, or assist investigation in any department of science." That purpose guided the Academy throughout its first 100 years and will continue to be our guide through the current century.
Among our nearly 60 Affiliated Societies and Institutions are Meadowlark Gardens and the D.C. Historical Society

Among the recipients of The Washington Academy's Seals of Approval are Karl Pribram's The Form Within: My Point of View and Dan Berleant's The Human Race to the Future – What Could Happen And What to Do.

Among the recipients of The Washington Academy's Awards for Scientific Work of High Merit are Harry Diamond for Engineering in 1941 and John Mather for Physical Sciences in 2006


Harry Diamond

John Mather
The Washington Academy of Sciences has published articles of scientific interest continuously since 1899, first as The Proceedings until 1911, when it became The Journal of the Washington Academy of Sciences. The Tables of Contents of 100+ issues of the Journal are listed here.