The Washington Academy of Sciences participates in judging of STEM fairs and robotics competitions around the DMV area, and grants award certificates and trophies at some of these events.
Since 2017, the Junior Academy has participated in the annual STEM fair competition at the Blair High School in Montgomery County, MD.  This is a magnet school for STEM subjects, and it has gathered many of the most talented students from around the county.  As their senior project, these students create a research project with a technical paper, a poster session and interview with a team of Academy judges.
Blair STEM Magnet HS Awards for 2023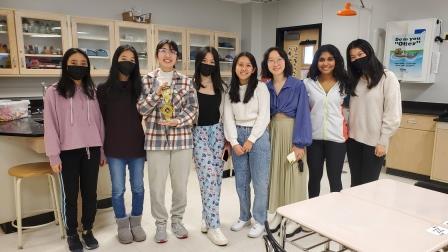 Above are some of the winning students in the STEM fair conference held at Blair HS, Jan. 12, 2023.   Dr. Vijay Kowtha and Anne Kornahrens represented the Academy in granting these awards.
Blair STEM Magnet HS Awards for 2022
On February 16, 2022 Dr. Vijay Kowtha of IEEE and Paul Arveson, VP of the Junior Academy handed out 24 trophies to the students of the annual Blair HS STEM fair.

A total of 78 students created 67 senior projects for this year's program (some worked on teams and some were individual). We organized a team of about thirty judges to evaluate the projects, which consisted of an abstract, a technical paper, and a 10-minute video presentation that the judges watched online. The projects were arranged in nine categories, including behavioral science, biology, chemistry, engineering, math, medical research, machine learning, and technology. Each of the projects also received personalized feedback forms from the judges that highlighted points of excellence and suggestions for improvements.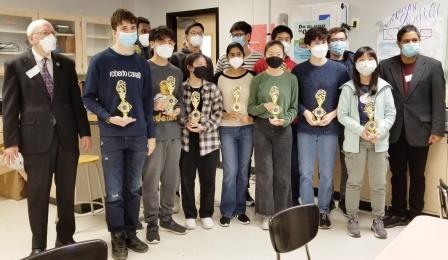 Thirteen of the students earned First Place awards, and eleven earned Second Place. These winners received trophies, and all of the students received the WAS Certificate of Achievement signed by the President of the Washington Academy of Sciences, Dr. Ram Sriram. We trust that this recognition will be helpful to the students in the future. We are proud to have had a small part in encouraging their careers and we anticipate many exciting discoveries that they are likely to make!
Blair STEM Magnet HS Awards for 2021

Here are some of the 38 winners of awards from the Academy for the 2021 STEM fair at Blair High School.
The Academy is always seeking more judges to participate in events like this one.  More will be needed especially in the "science fair season" of March – April.  Please contact us to volunteer!