Washington
Junior Academy of Sciences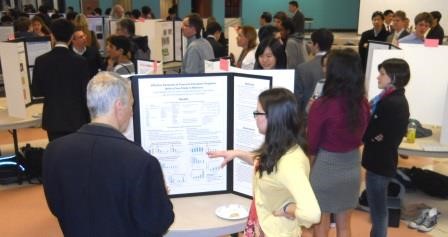 Since the 1940's, the Washington Academy of Sciences has sponsored a Junior Academy of Sciences. The Junior Academy exists primarily to serve pre-college schools in DC, Maryland and northern Virginia. We provide professional scientists who serve as judges in STEM fair (Science, Technology, Engineering, and Mathematics) programs in these schools. The judges attend fair events, interview students and evaluate their projects. We provide Certificate awards based on achievement, as well as feedback to students and teachers for improving science fair quality and guidance.
The US government and local governments have been increasingly recognizing the strategic importance of STEM education, particularly in computer science.  The Junior Academy serves to support this national interest.
We Need Your Judgment!
The Junior Academy welcomes inquiries from people in schools, companies, or affiliates who wish to serve as science fair judges, tutors, mentors and classroom volunteers in future programs.  For more information or to volunteer please contact the Vice President of the Junior Academy at .
Previously the Junior Academy provided support for other educational programs such as these:
STARS – Science and Technology Aptitude Recognition for Schools.
SEAP – Science and Engineering Apprentice Program and SEAP Venezky Awards for Chemistry Apprentices.
Currently the Junior Academy partners with the American Junior Academy of Science and the American Association for the Advancement of Science (AAAS) in its Senior Scientist and Engineers STEM Volunteer Program in the local area. The Junior Academy also partners with Sigma Xi in its new publication initiative, Chronicle of the New Researcher .  Students are invited to submit research articles for publication here.
The Junior Academy also participates in robotics clubs and maker spaces in the DC area, including MASER-DC (Mentors Advancing STEM Education and Research), which sponsors the Washington DC Girls Only Robotics Club Bladerunner FRC 6893 organized under FIRST Robotics.
The Junior Academy supports another maker space, MoCo Makers, which meets in the Rockville Library.
The Washington Academy of Sciences hopes to expand Junior Academy services with more programs, such as opportunities for publication, to reach more students and encourage them to consider careers in STEM.