ART IN SCIENCE…
and vice versa
The contributions of science and technology to the art of painting have been incalculable. They can be seen in the composition of the stuff of painting — the paints, the papers, the canvasses — the preservation of paintings, and even where painting takes place, since it was the development of the tube that allowed painters to port their paints into the open air — a shift of venue that provided the impetus for the Impressionist movement.


 



Not content with simply accepting these munificent contributions, the painters have also seized upon Science and Technology as subjects for their works.
We've assembled about two dozen of these works to show here. They have been divided into seven categories. You can jump to a category by clicking on a topic title; you can reach an artist by clicking on a name; or you can see everything in sequence by just scrolling down.
To those of you who came to us by way of a browser search for a particular artist: you'll find much else of interest on our site.
TABLE OF CONTENTS
Ilya Repin: Portrait of Mendeleyev
Albert Edelfelt: Louis Pasteur
David Martin: Benjamin Franklin
Andy Warhol: Albert Einstein
William Blake: Sir Isaac Newton [a truly ditzy portrait]
Max Ernst: Euclid [ditzier yet}
Churchman's cigarette ad
Maxfield Parrish: Wond'rous Wise Man
Unknown: The Scientific Simpleton

Gerard Dou: Astronomer by Candlelight
Henry Stacy Marks: The Great Auk's Egg
Jan Vermeer: The Geographer
Joseph Wright: Experiment with the Air Pump
Randy Dudley: Verifying Dissonant Statistics
Rembrandt: The Anatomy Lesson of Dr. Nicolaes Tulp
Thomas Eakins: The Gross Clinic
Karen Kunc: Ancient Geology
Roy Lichtenstein: Peace through Chemistry
Walter Valentini: Lo Spazio, Il Tempo

Adraen Van Ostade: An Alchemist
Jan Steen: Village Alchemist
Bela Lugosi as Dr. Marlowe
Wood: The Alchemist's Dilemma
Leonardo Da Vinci: Drawing of a woman's torso
Portrait of Mendeleyev

Louis Pasteur

William Blake

Max Ernst

Churchman's Cigarette Ad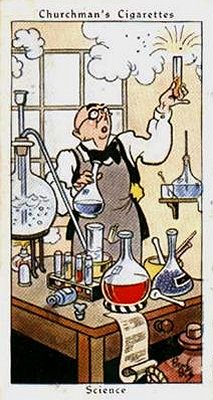 Maxfield Parrish

Gerard Dou

Henry Stacy Marks

Jan Vermeer

Joseph Wright

Randy Dudley

Thomas Eakins

Karen Kunc

Roy Lichtenstein

Adraen Van Ostade

Jan Steen

Bela Lugosi as Dr. Marlowe

Wood

Leonardo Da Vinci